Invitation
Healthcare is an integral part of the human life. Materials play an interesting role in many of the life saving devices. This is where polymers offer enormous opportunities towards newer applications in technologically important areas. There is a great necessity to have an integral approach towards this complementary relationship of polymers and their performance. These polymeric materials have shown multidirectional growth in several areas of technological innovations, which ranges from the biomedical polymers to the fascinating field of smart materials for human organ reconstruction. A precise understanding of the molecular architecture and its role in governing physical characteristics is extremely useful to understand their interaction with the biosystem. The world of polymers is fascinating & innovative and requires a great deal of interaction and discussion among the biomedical community.

Asian Polymer Association (APA) is a professional society dedicated to the science of polymers. APA Bioforum is organizing e-conference on Polymeric Biomaterials & Bioengineering during August 27-28, 2021. The conference would be dedicated to the development of innovative materials for bioengineering and human healthcare systems. We are sure that this conference would provide us required impetus in generating polymeric systems and biomaterial resource for the country.

Bhuvanesh Gupta
Conference Chair
Call for Papers
Papers are invited in the form of oral and poster presentations. All those desirous of participating and/or presenting a paper in the conference are requested to complete the online abstract submission. Authors are requested to submit abstract with maximum word count of 250. Authors may submit full length papers for publication in the Scopus Indexed proceedings from Springer.
---
Important Dates

Submission of Abstracts : June 30, 2021

Intimation of Acceptance : July 05, 2021

Submission of Full Paper : July 20, 2021

Last Date of Registration : July 20, 2021


---
The e-poster session is proposed to highlight the activities in various areas of polymer science and biomedical engineering. Best poster awards will be presented to students participating in the poster session. A committee comprising of eminent scientists will make its decision on the best posters presented in the conference. The innovation contest will be among the young scientists up to the age of 35 years for the findings/ patent that has changed the life of the human being. The abstracts for oral award presentation for young scientists will be selected by the scientific committee .
Value : Rs. 1 Lakh
Major Entitlements
One place in organising committee
Right to nominate session co-chair
Right to nominate two free delegates
Right to nominate one oral talk
Logo & advertisement in souvenir
---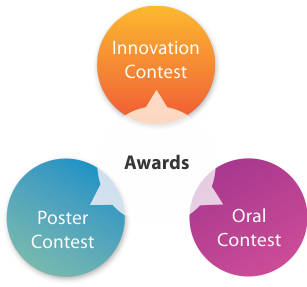 Registration Fees
---
Indian Academic Institutes - Rs. 1200
Indian Students - Rs. 800

---
Foreign Delegates - € 150

---
---
---
---